UNITING THE EFFORTS OF THE Water Community
WCS AWWA is where industry leaders come together. Meet the people you need to know face-to-face at our networking events, seminars, conferences and tradeshows. The result – a network that will benefit you throughout your career.
Connect, Share, Collaborate, Exchange and Grow
Western Canada Section is a Section of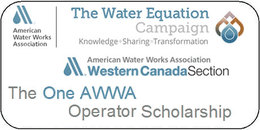 Workshop
Aug 29th 8:00 am - 5:00 pm
Aug 30th 8:00 am - 5:00 pm

Saskatoon SK - How much water is your utility losing to leakage, customer meter error or water theft? How can your utility quantify these water losses or identify the cost burdens the losses impart upon the system?
WFP
Sep 06th 10:30 am - 8:00 pm

Help us to kick off the Western Canada Section's 1st Annual Water For People Charity Golf Tournament on the beautiful Springbank Links Golf Course.
On Wednesday March 22, World Water Day, we thank-you for your past and future contributions.
AWWA's Annual Conference & Exposition brings together experts from around the world to exchange ideas about water - the world's most important resource
The recent Fresh Ideas Poster Contest at the WCW Conference and Exhibition in Calgary was a success! Young professionals and students gathered to show off creative posters that displayed their innovative research ideas and gave them a chance to meet water industry leaders from throughout western Canada.
Young professionals and students from more than 20 AWWA Sections are competing at the annual conference this week in the "Fresh Ideas" poster contest, where they display their innovative research, meet peers, and hobnob with water sector leaders.
Here is a chance to share what you have come across in the field, we are looking for the bad and the ugly…cross connections of course.